Resurrection Icon by Manuel Panselinos
"For Christ also suffered for sins once for all, the righteous for the unrighteous, in order to bring you to God. He was put to death in the flesh, but made alive in the spirit, in which also he went and made a proclamation to the spirits in prison, who in former times did not obey, when God waited patiently in the days of Noah, during the building of the ark, in which a few, that is, eight persons, were saved through water. And baptism, which this prefigured, now saves you—not as a removal of dirt from the body, but as an appeal to God for a good conscience, through the resurrection of Jesus Christ, who has gone into heaven and is at the right hand of God, with angels, authorities, and powers made subject to him."
- 1 Peter 3:18-22
Christ Pantocrator mosaic at Chora Church in Istanbul, Turkey
"I saw no temple in the city, for its temple is the Lord God the Almighty and the Lamb. And the city has no need of sun or moon to shine on it, for the glory of God is its light, and its lamp is the Lamb. The nations will walk by its light, and the kings of the earth will bring their glory into it. Its gates will never be shut by day—and there will be no night there. People will bring into it the glory and the honor of the nations. But nothing unclean will enter it, nor anyone who practices abomination or falsehood, but only those who are written in the Lamb's book of life."
- Revelation 21:22-27
"Conversion of Saint Paul" by Michelangelo Merisi Carvaggio
"Now as he was going along and approaching Damascus, suddenly a light from heaven flashed around him. He fell to the ground and heard a voice saying to him, "Saul, Saul, why do you persecute me?" He asked, "Who are you, Lord?" The reply came, "I am Jesus, whom you are persecuting. But get up and enter the city, and you will be told what you are to do." The men who were traveling with him stood speechless because they heard the voice but saw no one. Saul got up from the ground, and though his eyes were open, he could see nothing; so they led him by the hand and brought him into Damascus. For three days he was without sight, and neither ate nor drank."
- Acts 9:3-9
"The Yellow Crucifixion" by Marc Chagall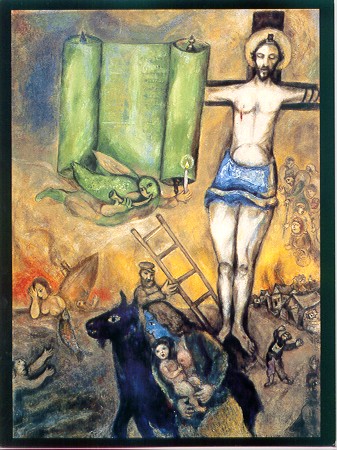 "So then, remember that at one time you Gentiles by birth, called "the uncircumcision" by those who are called "the circumcision"—a physical circumcision made in the flesh by human hands— remember that you were at that time without Christ, being aliens from the commonwealth of Israel, and strangers to the covenants of promise, having no hope and without God in the world. But now in Christ Jesus you who once were far off have been brought near by the blood of Christ. For he is our peace; in his flesh he has made both groups into one and has broken down the dividing wall, that is, the hostility between us. He has abolished the law with its commandments and ordinances, that he might create in himself one new humanity in place of the two, thus making peace, and might reconcile both groups to God in one body through the cross, thus putting to death that hostility through it."
- Ephesians 2:11-15
"Life in Community" from The Saint John's Bible
"Now the whole group of those who believed were of one heart and soul, and no one claimed private ownership of any possessions, but everything they owned was held in common. With great power the apostles gave their testimony to the resurrection of the Lord Jesus, and great grace was upon them all. There was not a needy person among them, for as many as owned lands or houses sold them and brought the proceeds of what was sold. They laid it at the apostles' feet, and it was distributed to each as any had need."
- Acts 4:32-35